NEW VIRTUAL GARAGE APP FROM HPI PROVIDES CAR OWNERS WITH PEACE OF MIND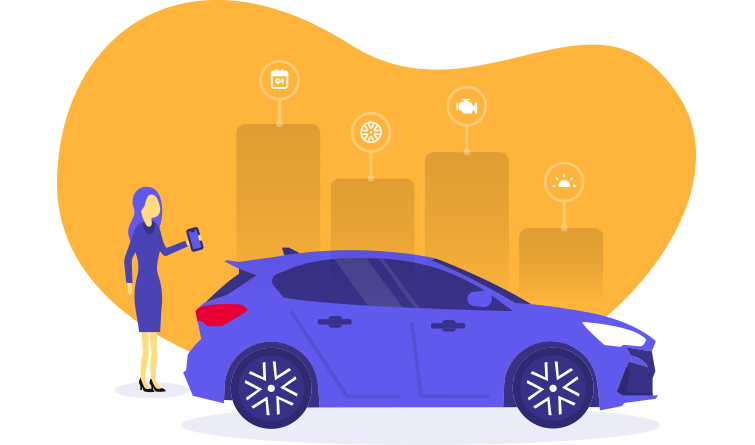 Motorists can avoid falling foul of hefty fines thanks to new app that makes being a car owner simpler and safer than ever
cap hpi, part of Solera Holdings, Inc., a global leader in risk and asset management data and software solutions for the insurance and automotive industries, today announced that myHPI is now available. This free app, which uses real-time data to generate live vehicle history and maintenance records, will send motorists automated alerts for MOT and tax due dates.
HPI's proprietary research shows UK motorists run the risk of incurring fines for failing to keep up with their vehicle ownership records. Independent research commissioned by HPI with 500 motorists reveals over a fifth (21%) of drivers said they've forgotten to take their car for its MOT and over a quarter (27%) forget to service their car when it's due.
Research* published last year showed that two million drivers were at risk of a £1,000 fine by forgetting to renew their MOT certificates by up to a week, while more than a million forgot to renew it for up to a month. DVSA figures also revealed that over a third of cars fail their initial MOT tests, illustrating the significance of keeping on top of car servicing.
myHPI has been developed by the vehicle data experts at HPI and offers the perfect tool for car owners, whether looking to buy, sell or simply take good care of their car. The app aims to make the process of car ownership much simpler and more secure. It is the most advanced virtual garage tool available to motorists with comprehensive data available on each vehicle.
Features of the myHPI app which can benefit motorists include:
Access to any past HPI Check reports and valuations
Safe digital storage for car related documents and service, maintenance or repairs receipts
Automatic alerts for MOT and tax due dates
Customisable notifications for other important events such as insurance renewal
A calendar showing key events in the car's life cycle
Free manufacturer recall updates (which usually cost £2.95)
Fernando Garcia, consumer director at HPI said: "MyHPI simplifies the process of owning a car and provides a valuable resource for millions of used car owners around the UK, many of whom are risking big fines by missing their MOT and tax renewal dates."
He continued, "It allows motorists to keep track of everything they need to remember as a car owner. Users can access their MOT and tax data via the app to ensure that they never miss an MOT again. Reminders can also be set for when insurance is up for renewal or a service is due. By building a car profile, users are creating an organised, digital history that will add more value to the car when it comes time to sell.
Additional company research earlier this year with 2,000 motorists shows that a comprehensive profile will give a buyer more confidence that the car has been looked after and that the asking price is fair. 79% of respondents said they would view a vehicle with a full digital history as more valuable and 26% felt that full documentation and receipts for repair work could add more than 10%.
For more information visit www.hpi.co.uk/myhpi.html or downloading the myHPI app visit the App Store and search 'myHPI'. A demonstration of myHPI can be viewed here: https://youtu.be/2yZsglsEHJg
###
*Survey source: AA Populus Poll, 2018
ABOUT CAP HPI
cap hpi provides decision support data and software solutions spanning vehicle valuation, validation, collision, mechanical repair, and total cost of ownership. cap hpi helps users make smarter automotive decisions by providing one source for data and software solutions that uniquely span the whole vehicle lifecycle; new, used and future vehicle valuation, validation, collision, mechanical repair and total cost of ownership.
All data is uniquely connected by the cap hpi code and a single methodology across all markets and sectors.
cap hpi puts technology at the centre of all data activities, from collection and processing, through to delivery and the development of new applications. It operates from an international hub in the UK; that ensures its systems, coding, data collection processes, and valuation methodologies are consistent, scalable, repeatable and of the highest quality for every country. Valuations and forecast data are managed by local industry experts to ensure insight is added to each data set to enhance accuracy.
cap hpi operates as part of Solera, a global leader in risk and asset management data and software solutions for the automotive and insurance industries.
ABOUT SOLERA
Solera is a global leader in risk and asset management data and software solutions, empowering companies across the automotive and insurance ecosystem with trusted solutions that adhere to the highest standards of data privacy, security and integrity to support connectivity across the vehicle value chain. Solera's solutions bring together customers, insurers and suppliers, empowering smarter decision-making through service, software, enriched data, proprietary algorithms and machine learning that come together to deliver insight and ensure customers' vehicles and property are optimally maintained and expertly repaired. The company is active in over 90 countries across six continents, processing more than 300 million digital transactions annually for over 235,000 customers and partners. By drawing on the market-leading solution capabilities and business process best practices from its technologies around the world, Solera provides unsurpassed scale and strength with superior performance while delivering innovation to move the industry forward.