CAR CLOCKING – THE ROAD TO RUIN?
LATEST 'CLOCKING' DATA REVEALS AN ALARMING INCREASE IN VEHICLE MILEAGE FRAUD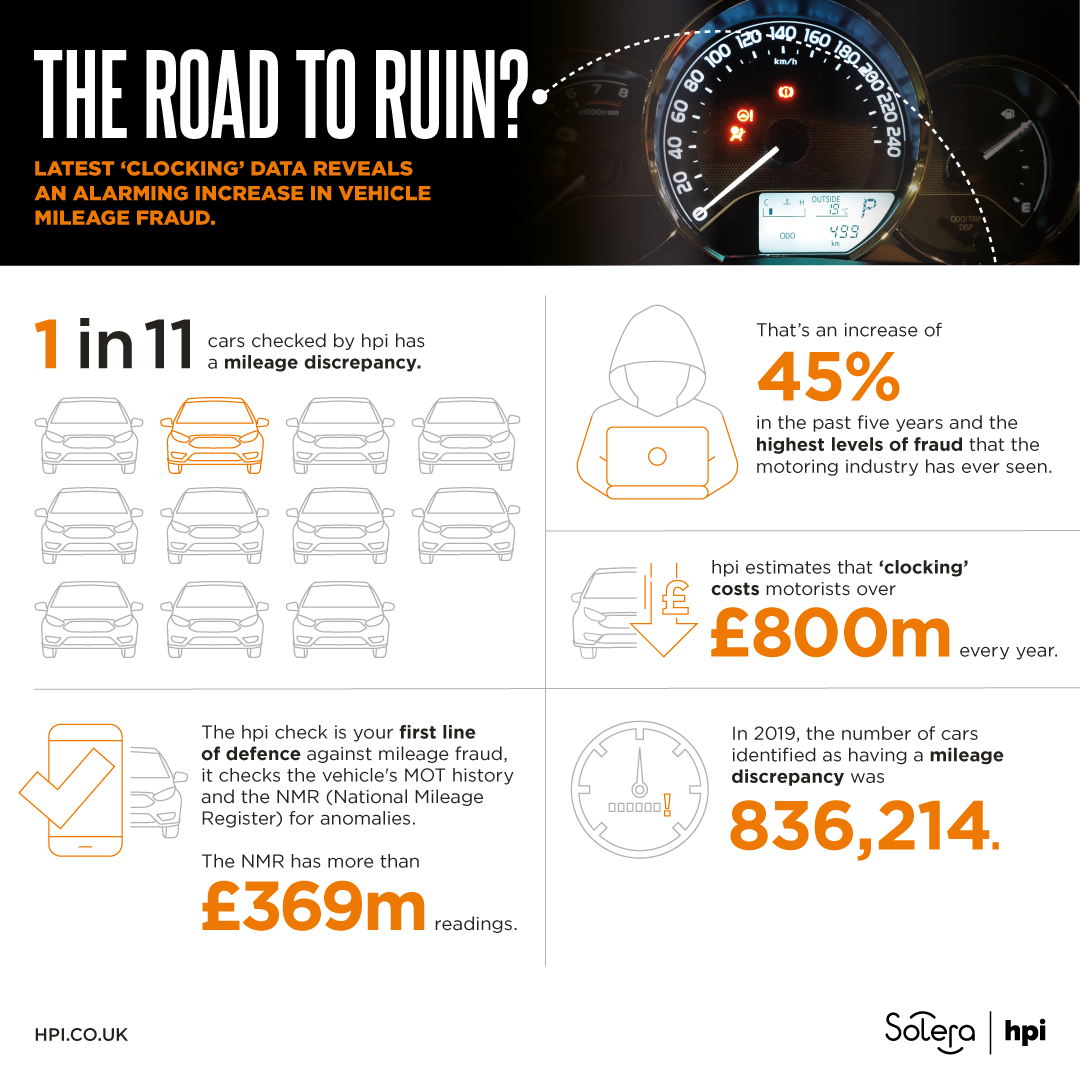 What's the issue?
According to our latest data, one in 11 vehicles undergoing an HPI Check is identified as having a mileage discrepancy. That's a worrying increase of 45% in the past five years and the highest levels of fraud that the motoring industry has ever seen.
As a result, UK motorists should beware of buying 'clocked' cars with questionable mileage records that could see them being ripped off or even worse, risking their safety. The problem is getting worse year on year and, for anyone in the market buying a used car, it can have serious implications for both finances and safety behind the wheel.
As one of the UK's leading authorities on vehicle checking services, HPI estimates the practice of mileage tampering often known as 'clocking' is costing motorists over £800 million every year.
It is illegal to sell a clocked car without declaring its genuine mileage, but what may come as a surprise to most people is that the act of altering the car's odometer is not an offence. The illegal practice of clocking takes place when drivers look to deliberately defraud second-hand car buyers when the vehicle is sold on.
The hard evidence
The alarming figures from our own HPI Check data show an increase of 22.2% for 2019 over 2018's figure when one in 14 vehicles was recorded as having a mileage discrepancy.
The actual number of vehicles identified as having a confirmed mileage discrepancy for the whole of 2019 was 836,214, a 'hit' rate of 8.99% compared to 7.35% (607,981) for 2018.
NMR (National Mileage Register) is the official system used to check vehicle mileage by HPI, which has now surpassed over 369 million readings making it one of the largest, most accurate sources for verifying and investigating mileage records.
Our data confirms that with the increase to one in 11 cars registering some form of mileage discrepancy, the actual volume of vehicles on UK roads with a mileage discrepancy has increased by nearly half (45%) over the past five years.
The statistics make for grim reading. They have increased steadily over the years, recorded as one in 14 in 2018, one in 16 in 2017, 2016 and 2015 and one in 20 vehicles in 2014.
In addition to mileage problems, as motorists we should also be aware that there is a one in three chance of uncovering another hidden problem when buying a used car such as having outstanding finance, having previously been an insurance write off or even being recorded as stolen.
What can be done to avoid buying a car with a mileage discrepancy?
Checking a car for mileage discrepancies comes as standard in the HPI Check . By building up a history of a vehicle's mileage, checking the last three times it was recorded on the NMR, and cross referencing with MOT records, it can highlight any discrepancies and arm car buyers with the information and confidence they need when dealing with used cars.
It can also reveal whether a vehicle is currently recorded as stolen with the police, has outstanding finance against it, or has been written off.
Carrying out a mileage check from HPI will flag any mileage discrepancies through two reliable sources – the National Mileage Register and the car's own MOT history. So, if a car has been clocked or had its odometer tampered with, then the mileage reading will appear to have decreased which is a false reading.
A vehicle's mileage is directly linked to its value – this is why it is so important that the mileage reading is accurate and has not been altered in any way. Turning back the clock on a car can inflate the price considerably. Buying a car that's had its mileage tampered with can and often does lead to unforeseen mechanical problems cropping up sooner than they should, which could have safety implications, or lead to hefty repair bills.
All the safety features and modules in a modern car, such as airbags, ABS and ignition, feed information into the vehicle's central computer system. Each time an issue arises such as a fault warning – a 'snapshot' of the vehicle's mileage will be logged. Unless a vehicle's mileage is wound back by a particularly smart clocker who knows to alter the mileage readings on all modules as well as the odometer, these will be out of sync. This will lead to issues with safety warnings – making it potentially very dangerous for drivers, any passengers and other road users.
Next steps for those looking to buy a used car
It can be difficult to spot a clocked vehicle just by looking at it but there are a few tell-tale signs such as: worn pedals, extra shiny steering wheel, excessive wear to seats, mats and carpets. Trust your judgement when weighing a car's apparent mileage and its general condition – does it add up?
Remember a clocked vehicle could be hiding serious levels of wear and tear, especially if it has been previously used as a high mileage private hire vehicle, meaning additional costs for unexpected repairs or even a potentially serious safety threat.
With an increasing number of car buyers now opting for PCP deals, the motivation to avoid financial penalties at the end of a car's lease period is ever present. If you've got your eye on a used car and want to avoid becoming a victim of mileage fraud, then your first line of defence should be an HPI Check.
Click here to find out more.