1 in 3 Cars has a Hidden History
January can bring used car bargains, but don't be fooled by a low price and shiny paintwork. From our data we've found that 1 in 3 cars has a hidden history.
This month used car buyers could bag themselves a bargain if they add a vehicle to their 'January Sales' shopping list. January is traditionally a quieter month with both dealers and private sellers feeling the post Christmas financial hangover. However, with over 29 million cars licenced for use on the UK's roads* and 1 in 3 of those potentially having a hidden history, car buyers need to protect themselves from buying a nightmare on wheels, masquerading as a dream drive.
Savvy buyers could take this opportunity to drive a hard bargain with private sellers, but only if they understand the risks and how to avoid them. Our infographic gives you the important facts that you need to know.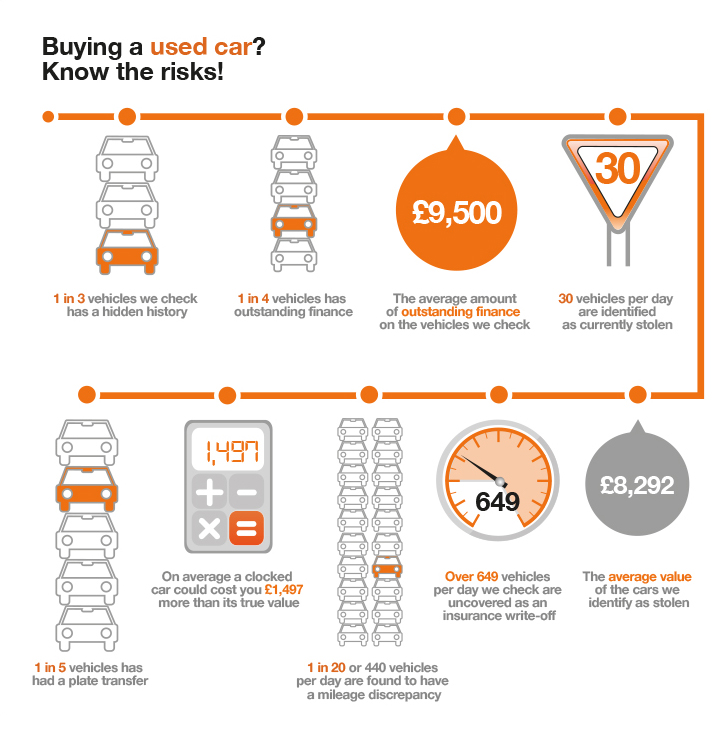 Is it on finance?
1 in 4 vehicles checked by us has outstanding finance of an average £9,500 – that's a hefty amount for a used car buyer to pay on top of the original price tag. Anyone buying a car, which is still on finance may lose the vehicle and the money they paid for it, if the finance company claims it back.
Has it been stolen?
30 vehicles per day are identified as currently stolen. A vehicle that later turns out to be stolen, may be returned to the rightful owner, leaving the unsuspecting buyer out of pocket and without a car.
Is it a write-off?
We find 649 vehicles per day, which have been declared insurance write-offs. Don't be fooled by shiny paintwork, as it could be a write-off that's not fit to be on the road. Buyers can make an informed decision by conducting an HPI Check, which identifies if a vehicle has been written-off and what category it is.
 Does it have a dodgy mileage?
1 in 20 vehicles per day have a mileage discrepancy. On average, a clocked car could cost an innocent buyer £1,497 more than its true value. The HPI Check comes with a mileage check as standard, using the National Mileage Register to cross check over 170 million mileage readings and help buyers avoid throwing money away on a clocked vehicle.
If you're in the market for a used car, get the history checked out. If you would like more information visit us at www.hpicheck.com or tweet us @hpicheck.
Happy driving,
Priya
*Department of Transport Vehicle Licensing Statistics 2014