HPI runs the National Mileage Register, the largest independent database of vehicle mileages in the UK. The services we offer provide your business with the best protection against taking in and unknowingly selling on clocked vehicles. Depending on the level of cover you need, you can choose to either check the vehicle or go for the full investigation.
It is now possible for manufacturers to specify exactly the level of NMR Check they need their dealers to carry out. This is set up so that whenever a dealer runs an HPI Check as part of the approved used car programme the correct NMR check is also carried out. This protects your brand by ensuring that your dealers are meeting their obligations under the recent Office of Fair Trading Guidelines.

Vehicle clocking costs the motor industry over £100m per year according to the Office of Fair Trading. If your dealers take in a car that has been clocked, they may end up paying more money for it than they should which is a direct cost to their bottom line. If they sell it on and it is identified as a clocked vehicle, the costs could be far greater. A simple check against the National Mileage Register can quickly let them know if there are any obvious problems with the car. It is a simple cost effective option that allows them to make a quick decision on a vehicle.
They can tick the option on the HPI Check and they will find out if there is a mileage discrepancy or not. We source our mileage information from a variety of different sources, so they will get a clear idea about the car's mileage history.

A full NMR investigation will give your dealers the reassurance that they have met their duty of care under the Consumer Protection Regulations. By contacting a vehicle's previous keepers, we can check a vehicle's mileage history and verify it. Once completed your dealers will receive the full report which they can then share with their customers.
It is simple to arrange an NMR investigation, and we would always recommend that one is carried out on any vehicle where there has been more than 1 previous keeper.
As part of the NMR Investigation, they will also be covered by the mileage warranty, so if the car is later found out to be clocked, they will be protected.
In most circumstances you would be expected in the first instance to at least conduct a mileage check on the vehicle with an independent and reliable company.
Guidance for second hand car dealers - The Office of Fair Trading
1 in 12 vehicles we check has a discrepant mileage
The largest and most comprehensive database of its kind the National Mileage Register (NMR) is exclusive to HPI in the fight against "clocked" vehicles. The implications of buying and selling clocked cars are massive, so make sure you trust the experts at NMR to help protect your business
An NMR Investigation will
Build an accurate mileage history of the vehicle
Reduce risk of prosecution from Trading Standards
Enhance you reputation with your customers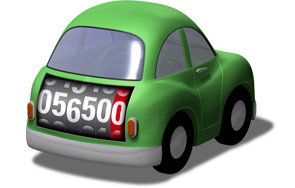 Find out more
Call us now on
0845 300 8902
An NMR Investigation is considered to be the basis of a sound legal defence against trading a clocked vehicle